Share
Library Workshops: Exploring Anatomy Resources
15/09/2022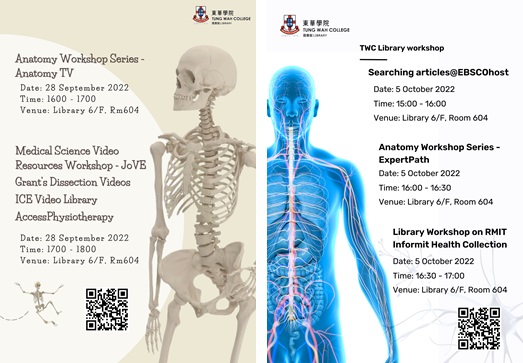 Interested in retrieving journal articles or finding anatomy resources available from the Library?
Come and join our database workshops. All sessions will be delivered on campus and online via Zoom.
Date and Time

Theme

28 Sep 2022 (Wed)
16:00 - 17:00
Anatomy Workshop Series –
Anatomy TV
17:00 - 18:00
Medical Science Video Resources Workshop – JoVE; Grant's Dissection Videos; AccessPhysiotherapy; ICE Video Library
5 Oct 2022 (Wed)
15:00 - 16:00
Searching [email protected]EBSCOhost
16:00 - 16:30
Anatomy Workshop Series –
ExpertPath
16:30 - 17:00
Library Workshop on RMIT Informit Health Collection
You will have a chance to win a $50 book coupon after joining 3 or more Library Workshops and completing the evaluation form within this Semester! And 1 CLD hour would be counted upon attendance for non-academic staff.
Click
HERE
to register now!