Share
Introducing APA Databases
10/11/2022
American Psychological Association (APA)
Databases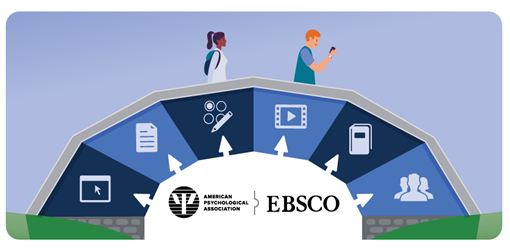 Looking for online resources from the American Psychological Association? The following databases are available on EBSCOhost through our library and can be accessed on desktops, laptops, tablets and mobile devices:
○ More than 217,000 full-text articles from more than 100 journals, each employing a meticulous peer-review process
○ Articles from APA journals, which have a significantly higher share of citations relative to the number articles published
○ More than 67,000 book chapters and 4,500 peer-reviewed books
○ The newest APA books as they are published
○ The entire reference book series, "APA Handbooks in Psychology®"
○ More than 4.8 million bibliographic records
○ Indexing of more than 2,200 journals, 99% of which are peer-reviewed
○ More than 61,000 records
○ Includes descriptive fields, including Methodology, Test Language and Factors/Subscale
Check out this
video tutorial
to learn more about these APA databases and how to use the search tools on EBSCOhost!
If you have any questions about accessing the databases, please feel free to
contact us
.